Looking For The Perfect Wedding Venue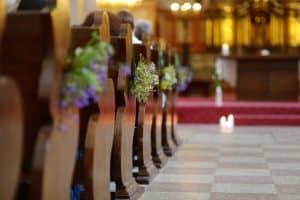 Below is a list of wedding venues in the greater Memphis area. Our staff works with the managers and directors of these facilities on a regular basis. We are familiar with the layouts and have first hand knowledge of the floral decor and style that works best with each. Our set-up and post event clean up staff are acquainted with the hours of operation and specific facility requirements.
We offer a Free wedding consultation for all new prospective brides. Our wedding design and planning team are experienced professionals. They can help you with every step of wedding flower planning process. We offer all your favorite floral varieties and buy our flowers farm-direct. That ensures that we can offer you the finest, freshest, highest quality flowers available in Memphis.
Memphis Area Wedding Sites
Annesdale Mansion – midtown
Annesdale Mansion – downtown
Balinese Ballroom – downtown
Bellevue Church – Cordova, TN
Cadre Building – downtown
Cara Hills II – Galloway, TN & Bartlett, TN
Chimes & Occasions – midtown/downtown
Colonial Country Club – Cordova, TN
Cook Convention Center – downtown
Crescent Club
Esplanade – Cordova, TN
First Evangelical Church
Germantown Baptist Church – Germantown, TN
Grace Evangelical Church
Heartwood Hall – Eads, TN, Rossville, TN, Collierville, TN
Hillwood @ Davies Manor – Bartlett, TN, Arlington, TN, Lakeland, TN
Hope Church – Cordova, TN
Idlewild Presbyterian Church – downtown
Kingsway Church
Lichterman Nature Center
Magnolia Room – downtown
Memphis Botanic Gardens
Millington Civic Center – Millington, TN
Pink Palace
Spring Creek Ranch – Collierville, TN
St Louis Catholic Church
Stonebridge Golf Course – Bartlett, TN, Arlington, TN, Lakeland, TN
The Atrium- downtown
The Barn – Crawfordsville, AR
The Orpheum – downtown
The Peabody Hotel – downtown
View A Sampling Of Photos From Our Wedding Portfolio